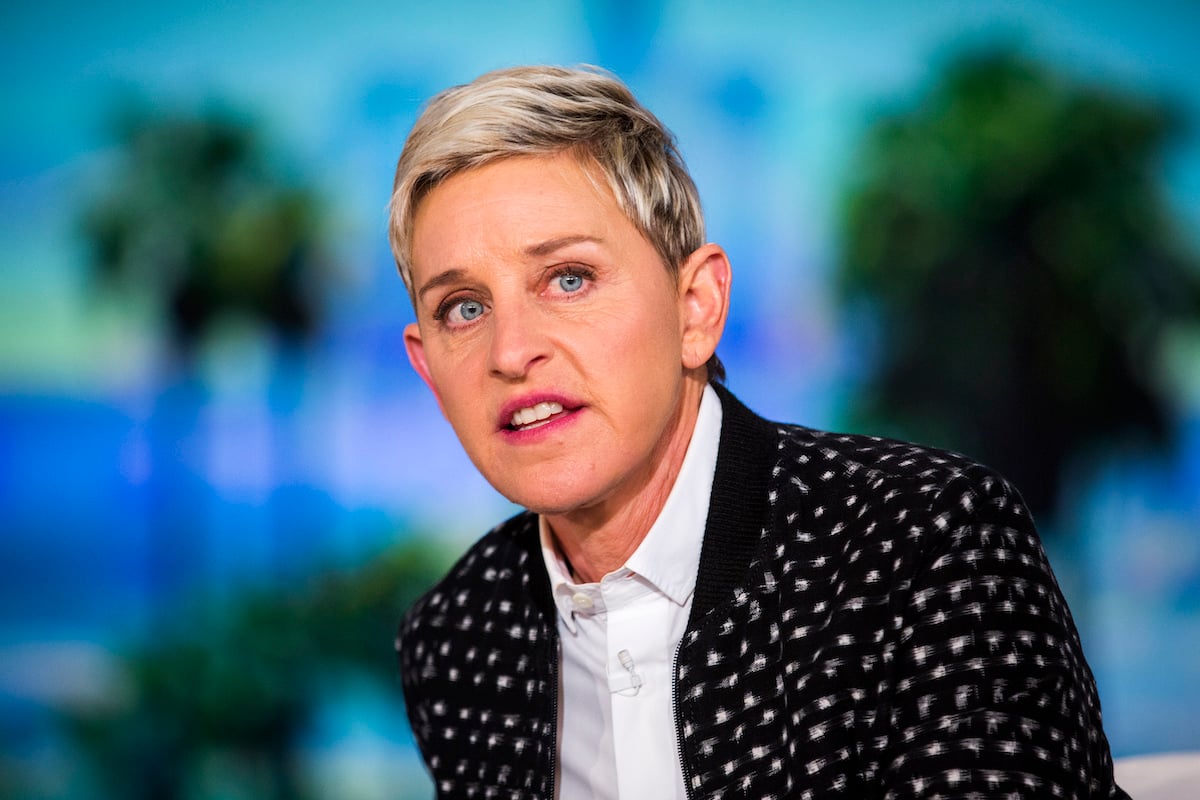 'The Ellen DeGeneres Show': Top 5 cringe-worthy moments
Few people have made an impact on daytime television quite like Ellen DeGeneres. The comedian, actor, and talk show host has entertained countless viewers with laughs and scares over the past 20 years. many moments on The Ellen DeGeneres Show were hilarious, inspiring or touching. But some were downright cringe-worthy.
"The Ellen DeGeneres Show" aired from 2003 to 2022
Just six years after making history as the first sitcom star to openly come out as gay, Ellen DeGeneres launched her daytime talk show, The Ellen DeGeneres Showin 2003. Over its 19 years on the air, the show has won 64 Daytime Emmy Awards.
DeGeneres entered the world of daytime television pioneered by Oprah Winfrey, according to CNN. Although the peak of daytime television has already passed, DeGeneres still took over and made her mark. His show featured celebrity interviews, lots of dancing and laughter, and guest jumping scares.
DeGeneres garnered 1.3 million daily viewers during the 2021-22 season. Such figures were very lucrative. In recent years, the show has brought Warner Bros. Television $35 million a year.
Robert Thompson, professor of television and popular culture at Syracuse University, said:[Ellen] was one of the mall's flagship stores on daytime television. I think in many ways she could be sort of the last of that era.
But after allegations of a toxic work environment in 2020 cost the show millions of viewers, DeGeneres announced she would be quitting daytime television.
The last episode of The Ellen DeGeneres Show aired May 26, 2022.
Throughout its nearly two decades on the air, the show has had several cringe-worthy moments. Here's a handful.
Ellen forced Mariah Carey to drink champagne to prove she wasn't pregnant
DeGeneres made Carey visibly uncomfortable in 2008 when the talk show host offered the superstar a glass of champagne. Rumors had swirled that Carey was pregnant, but she was clearly trying to keep her personal life private. DeGeneres wanted to know if Carey was pregnant so badly that she created a prick moment.
DeGeneres assumed that if Carey was pregnant, she wouldn't drink alcohol because drinking it during pregnancy can cause congenital disabilities. During the interview, Carey became visibly uncomfortable and said, "I can't believe it" and "it's peer pressure."
Whether she is pregnant or not, announcing such an event should be on her own terms and not forced upon someone on national television in front of a studio audience.
Ellen made fun of Sofía Vergara's accent
Sofía Vergara was the guest of The Ellen DeGeneres Show in 2017, and the two had a great time discussing Vergara's second wedding anniversary with actor Joe Manganiello. DeGeneres then explained how she was learning a Spanish word a day and wanted to play a game with Vergara.
The game involved Vergara, a non-native English speaker, saying difficult-to-pronounce English words. The Colombian-born actor has repeatedly mispronounced "discombobulated." After several attempts, Vergara said, "It's not even a word – you're doing it just to ruin my reputation."
Kanye West ranted for 6 minutes
A common practice in interviews is for the interviewer and subject to back and forth when speaking to keep the conversation flowing. Kanye West apparently didn't get the memo when he was asked on The Ellen DeGeneres Show in 2016.
While discussing some of West's antics on social media, the music mogul grabbed the interview and didn't let go for six minutes. He talked about how he could change the world for the better if he just had more resources, among other things. DeGeneres looked uncomfortable, but she finally regained control of the interview.
Giada De Laurentiis had an awkward cooking session
In 2017, DeGeneres had an interview with actor Nicole Kidman which followed with a light cooking segment with celebrity chef Giada De Laurentiis. The moment turned into a tense situation marked by De Laurentiis' condescending attitude and Kidman's eye rolls and sideways eyes.
Finally, near the end of the segment, Kidman had had enough of De Laurentiis' attitude and fired his attitude back at the leader. All the while, DeGeneres stood awkwardly in the middle.
Jessica Simpson's interview went off the rails
Full interview with Jessica Simpson on The Ellen DeGeneres Show in 2017 was cringe-worthy. The singer was there to talk about her music and her fashion line, but the segment quickly turned into a series of sexual comments.
Simpson later admitted that she was drunk during the interview due to alcohol addiction.
RELATED: 'The Ellen DeGeneres Show' Allegations 'Destroyed' Host: 'I Am What I Seem To Be'